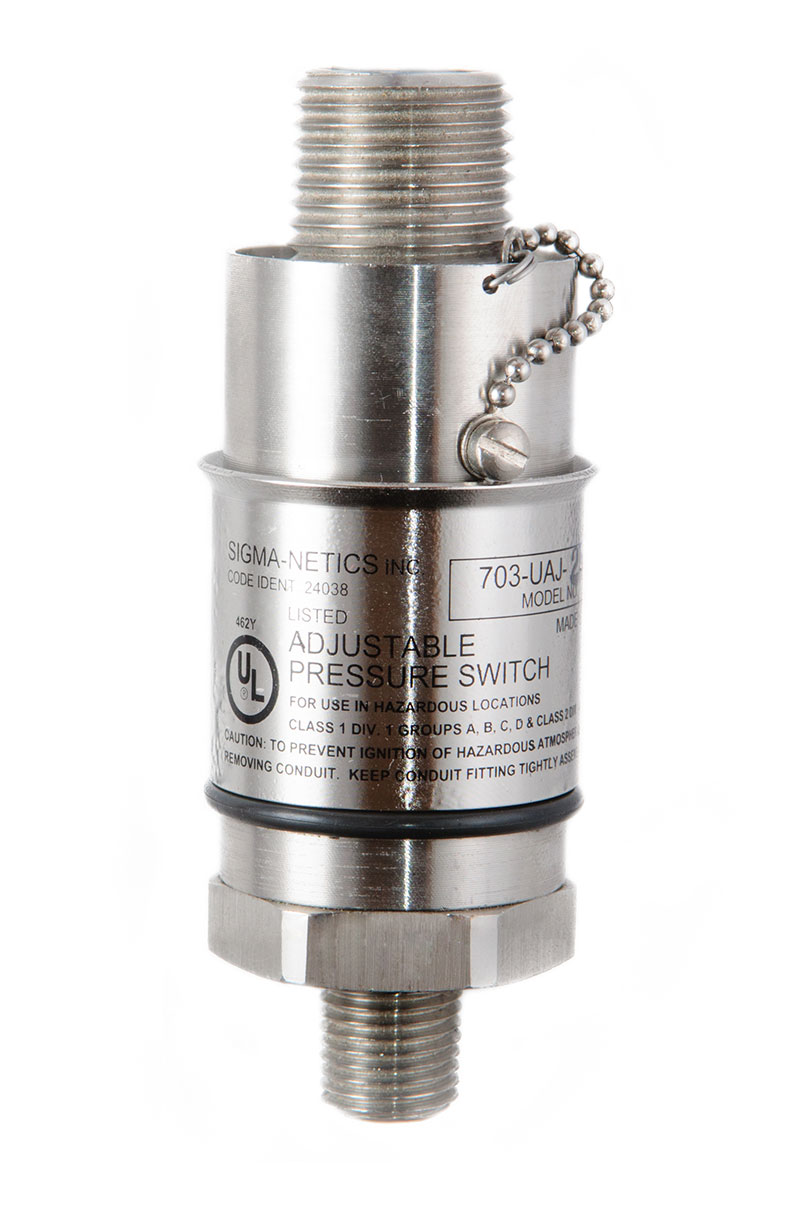 Pressure switches for oil and gas facilities have to meet a set of challenging requirements. Not only should the switch provide exceptional accuracy and reliability, but it also must be suitable for use in hazardous locations—and carry the safety ratings to prove it.
Our Model 703-U and 703-UJ explosion-proof pressure switches with piston actuation combine uncompromising safety and protection with the accurate, reliable switching that mission-critical operations demand. The switches are listed for use in hazardous locations as specified by UL Class 1 Division 1, Groups A, B, C and D and Class 2 Groups E, F and G. And, they are NEMA Type 7 Rated for explosion protection.
They also feature a rugged, piston-actuation design to ensure optimal reliability. That's because switches with a piston-based design are particularly able to manage high pressure spikes, leaks, vibration, shock and thermal extremes without losing accuracy or failing prematurely.
The pressure switches provide two options for safe and secure control of set points:
Model 703-UJ has been designed for easy field adjustment, letting users adjust pressure levels as conditions change. Once the setting is in place, 703-UJ's tamper-resistant locking mechanism keeps it secure.
Model 703-U, which has factory-set pressure.
Along with its piston design, the highly rugged Model 703-U/UJ features:
NEMA Type 7 Rating for explosion protection.
316 stainless steel construction to resist corrosion.
High overpressure capability.
Pressure handling up to 5000 psig.
Wide operating temperature range of -40°F to 180°F
Long lifetime — the snap-action switch has been tested to 1 million cycles.
Model 703U/UJ pressure switches are suitable for a wide range of upstream and downstream oil and gas operations such as offshore exploration, petrochemical processing and oil and gas pipelines. Additional applications include industrial OEM equipment and control panels.
To learn more about pressure switches for harsh environments, download our white paper.